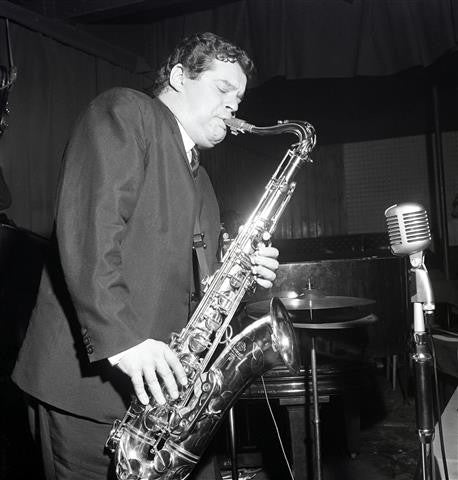 Tubby Hayes-2
Tubby Hayes was born in London. His father was a BBC studio violinist who gave his son violin lessons from an early age. By the age of ten Hayes was playing the piano, and started on the tenor sax at eleven. Dizzy Gillespie was an early influence
"I always used to listen to swing music in the early 'Forties and, in fact, I was just a kid at the time. I did not really intend becoming a tenor player, though I always liked tenor. I think maybe Dizzy influenced me more than Parker because he was sort of more accessible, he caught your attention more. As far as my influences over the years are concerned, Getz was it at one stage in the proceedings, and later Rollins, Coltrane, Hank Mobley and, to a lesser degree, even Zoot.
One much repeated story about Hayes' early career was told by Ronnie Scott. Scott was playing at a club near Kingston, and was asked whether he minded if a local player sat in: "This little boy came up, not much bigger than his tenor sax. Rather patronisingly I suggested a number and off he went. He scared me to death."
As well as leading his own bands and recording under his own name, Hayes also appears on recordings by other UK jazz musicians, such as the Harry South Big Band, the Ian Hamer Sextet and later studio sessions by Ted Heath's Orchestra. Hayes was also a prolific session musician in many genres. Among his many credits, Hayes led the brass section on the sessions for Music in a Doll's House, the acclaimed 1967 debut album by rock band Family, on which the young Mike Batt arranged the strings and brass. Batt credits Hayes with saving his brass arrangement on the track "Old Songs for New Songs", which was his first major recording session as an arranger—on the first take, he discovered he had inadvertently notated the parts in the wrong key but Hayes and his colleagues, realizing his mistake, discreetly transposed their parts by ear so that they would match the backing track.
Hayes appeared in a number of films, including All Night Long(1961) with Charles Mingus and Dave Brubeck, and (with his group) in A King in New York, by Charles Chaplin (1957), The Beauty Jungle (1964) and Dr Terror's House of Horrors (1965). He also played at a wide range of jazz festivals, including Reading, Windsor, Antibes, Lugano, Vienna, and Berlin
Pleased to announce that some of Freddy's photographs have been used in the up and coming documentary called 
Tubby Hayes Appreciation Society