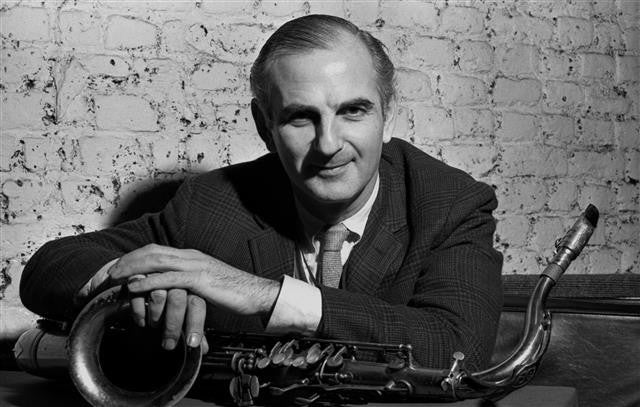 Ronnie Scott-1
Ronnie Scott (originally Ronald Schatt) was born in Aldgate, east London, into a family of Russian Jewish descent on his father's side, and Portuguese antecedents on his mother's. Scott began playing in small jazz clubs at the age of sixteen. (His claim to fame being, he was taught to play by "Vera Lynn's father-in-law!") Scott toured with Johnny Claes, the trumpeter, from 1944 to 1945 and with Ted Heath in 1946, as well as working with Ambrose, Cab Kaye, and Tito Burns. Scott was involved in the short-lived musicians' co-operative Club Eleven band and club (1948–50), with Johnny Dankworth and others, and was a member of the generation of British musicians who worked on the Cunard liner Queen Mary (intermittently from 1946 to around 1950) in order to visit New York and hear the new music directly. Scott was among the earliest British musicians to be influenced in his playing style by Charlie Parker and other bebop musicians.
Scott is perhaps best remembered for co-founding, with former tenor sax player Pete King, the Ronnie Scott's Jazz Club, which opened on 30 October 1959 in a basement at 39 Gerrard Street in London's Soho district, with the debut of a young alto sax player named Peter King (no relation), before later moving to a larger venue nearby at 47 Frith Street in 1965 The original venue continued in operation as the "Old Place" until the lease ran out in 1967, and was used for performances by the up-and-coming generation of domestic musicians.
Scott regularly acted as the club's genial Master of Ceremonies, and was (in)famous for his repertoire of jokes, asides and one-liners. A typical introduction might go: "Our next guest is one of the finest musicians in the country. In the city, he's crap".
After Scott's death, King continued to run the club for a further nine years, before selling the club to theatre impresario Sally Greene in June 2005.
In September 2013, while the club was being redecorated, a 12-metre-square hoarding was placed on the Frith Street façade as a tribute to its eponymous founder, bearing a giant photograph of Ronnie Scott by Val Wilmer, alongside one of his legendary one-liners: "I love this place, it's just like home, filthy and full of strangers."